Zaidan-
Notepad++
adalah software yg dirancang utk para designer blog,web,dll,kalo ane paling suka ngedit template disana karna simple dan gampang,sgt disarankan bagi para blogger yg gila edit template
Nah ada beberapa fitur dan perbaikan diantaranya
Fix localization regressions.
Make "Begin/End Select" Command recordable in macro.
Enhance the delimiter selection(Ctrl + double click) feature.
Fix Find/Replace dialog status bar overwriting memory problem.
Fix Run dialog doesn't work with spaces in path.
Fix "Find all in current document" asking for creating a new file bug (regression).
Screenshot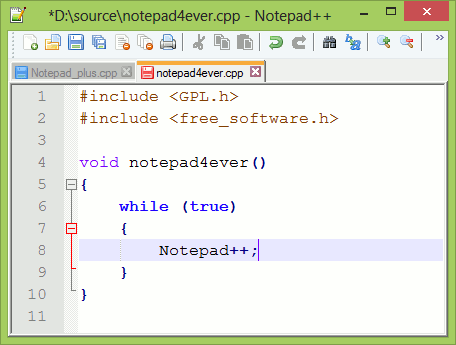 simak baik-baik mana yg full dan mana yg portable !!
FULL VERSION
Installer download:
http://adf.ly/RocsE
| size: 7 mb
PORTABLE
via Tusfile :
http://adf.ly/Rod42
|
size:881 kb
mirror :
http://adf.ly/RodAK
selamat menikmati kenyamananya y sob
makasih